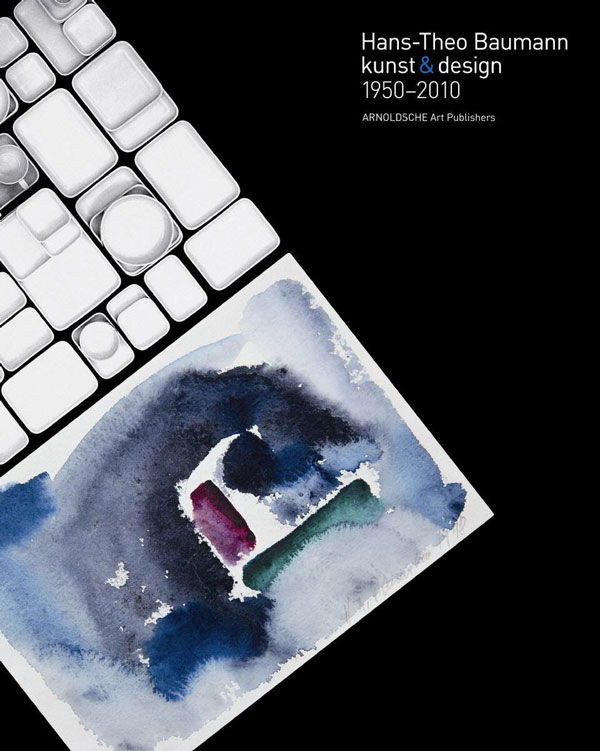 Just recently we received the book, Hans-Theo Baumann by Arnoldsche Art Publishers. I was so excited to wonder through this amazing showcase of works, after-all Baumann was someone that I had looked up to ever since I first started studying industrial design at university. But then I paused and sms'd  a friend and I asked him "do you know who Hans-Theo Baumann is in the context of design?" and he replied swiftly "no I have never heard of the fellow". So I thought as well as reviewing this book I might just give a brief history and summary of his work as well.
Article by Martin Gibson – @embody3d @martingibson – 11.10.2010
About Hans-Theo Baumann
When I say the name Hans-Theo Baumann for many a light bulb will pop, but unfortunately for many he is one of those great iconic figures who seem to fall through the cracks of modern history.
Am I referring to the great Hans Baumann, the great German poet and song writer who did work for the Nazi party?….Perhaps not.
Maybe the great Hans Baumann the famous bob sleigher who represented Germany in the 1968 Winter Olympics?….mm perhaps not.
Or maybe Hans Baumann the famous inventor with over 200 patents credited to his name? Well this one is close, but still wrong again.
I am of course referring to Hans-Theo Baumann, the great German Product Designer who has designed products for over 50 businesses, many of which have had incredibly successful production runs for many decades as a consequence of his work. His success is mainly attributed to his profound knowledge of manufacturing processes and production technologies. The diversity of Baumanns products spans categories including pottery, furniture, lighting, clothing, glassware, cutlery and tableware. Baumanns craftsmanship with materials includes glass, ceramics, textiles, metals, woods and even plastics!
The greatest asset of Baumanns work is his ability to design timeless objects, objects that circumvent trends and fashions. His glass work created in the 1950's and 1960's is still just as relevant and fashionable as when it was first publicly unveiled. There is a real sense of the mantra form follows function seen throughout his work as well. Even Baumanns 1960 office roll chair, Sedus Stoll AG, although on first glance is incredibly ugly to look at (some may even title it as a monstrosity of design), but on further inspection one can really treasure what the cold stainless steel frame covered in cloth has to say about its period, its designer and abouts its purpose.
Baumanns work is not easily recognisable against his associate designers, one would find it difficult to say "oh that bowl certainly has the characteristics of Baumann". There is such diversity going on throughout all of his pieces which makes it difficult to create any kind of supposition as to his philosophy or inspiration when designing. Whether it is his Picasso styled stain-glass windows, his Prussian almost tribal salt and pepper shakers, organic and post modern vases juxtaposed by bulbous and simplistic loft varieties mixed in with cultural references to the ancient Egyptians and patchwork from the North American Indians, his tranquil yet experimental vases, his oragami coffee cup and saucer mixed in with his Turkish jars….and even after all of this I am just beginning to scratch the surface of the carefully selected pieces in the below book that are hand picked by Baumann himself.
About the Book, Hans-Theo Baumann
[rating:4.5]
I had the great pleasure of reviewing the book, Hans-Theo Baumann – Kunst & Design, 1950-2010 by Arnoldsche Art Publishers, which unravels his fascinating career spanning 6 decades.
The book is beautifully presented, showing off Baumanns work in all its brilliance with nice full page images throughout. Each piece has clear captions including the date of design and manufacture, overall dimensions, the title piece and other relevant information. The only way I can possibly fault this great book is on its English translation. The primary language throughout is German which is then followed by English which is done at not the best level with all due respect to the translators. This is something that I generally wouldn't even mention, but it is an issue worth raising as at times it is this jittery translation which makes the insightful words, which are sometimes even delivered by Baumann himself sound choppy. This is unfortunate, but overall this doesn't detract from the books core message or the museum like ambience the book portrays as one explores through it.
If you know of Baumann well and appreciate his work this book, Hans-Theo Baumann, is an absolute must to add to your collection which summons his career of work in a all its beauty and diversity. The book is structured chronologically making it the perfect reference guide and also clearly shows the journey and development of Baumann as an artist. If you are an aspiring industrial designer but haven't come across Baumann just yet, he is certainly someone that will likely demonstrate your product design ethos and someone who deserves to be placed amongst your daily gossip along with the Starcks, Eames, Rams and Ives.
Vitra GmbH, Weil am Rhein ⁄ Plexiglasstuhl VB 101 f ⁄ H 80 cm, B 53 cm, T 48 cm ⁄ Stahlrohr verchromt + Sitzschale aus Plexiglas ⁄ Dekor schwarz ⁄ Entwurf 1952–53 ⁄ Fertigung 1954 Vitra GmbH, Weil am Rhein ⁄ Perspex chair VB 101 f ⁄ H 80 cm, W 53 cm, D 48 cm ⁄ chromium-plated steel tubing + seat of moulded Perspex ⁄ black decoration ⁄ Design 1952–53 ⁄ Made 1954
Baumann_S176 (Abb. 188) Hutschenreuther, Selb ⁄ Lufthansa-Bordgeschirr Form »2280« ⁄ Porzellan ⁄ Dekor weiß-kobalt ⁄ Kaffeetasse mit Untertasse ⁄ Beilagenschale ⁄ Ascher ⁄ Salz- und Pfefferstreuer ⁄ Entwurf 1971 ⁄ Fertigung 1976 Hutschenreuther, Selb ⁄ Lufthansa airline tableware model 2280 ⁄ porcelain ⁄ cobalt-and-white decoration ⁄ Coffee cup and saucer ⁄ Condiment dish ⁄ Ashtray ⁄ Salt and pepper shaker ⁄ Design 1971/Made 1976
Baumann_S124 (Abb. 138) Rosenthal, Selb/Form 1300 »Berlin«/Porzellan/Dekor kobalt/ Kaffeetasse mit Unterteller 0,2 l /Kaffeekanne 1,2 l/Zuckerdose 0,15 l/Teller flach D 32 cm/ Entwurf 1956–57/Fertigung 1957 Rosenthal, Selb/Model 1300 Berlin/porcelain/cobalt decoration/Coffee cup with saucer 0.2 l/Coffee pot 1.2 l/Sugar bowl 0.15 l/Flat plate diam 32 cm/Design 1956–57/Made 1957
Baumann_S112 (Abb. 124) Süssmuth, Immenhausen/Skulptur 12-04-76/H 32cm, D 14cm/ Freihandarbeit/Aufschmelzung/Unikat 1976 Süssmuth, Immenhausen/Sculpture 12-04-76/H 32cm, diam 14cm/ handmade, fusing/One-off 1976
Baumann_S33 (Abb. 27) Glasfenster/165 x 200 cm/ Basel, 1960 Glass window/165 x 200 cm/ Basel, 1960
Baumann_S207 (Abb. 213) Fukagawa, Arita, Japan ⁄ Teller ⁄ D 37 cm ⁄ Porzellan ⁄ Pinseldekor blau, Unterglasur ⁄ Entwurf von Fukagawa ⁄ Dekor von Baumann ⁄ Fertigung 1981 Fukagawa, Arita, Japan ⁄ Plate ⁄ diam 37 cm ⁄ porcelain ⁄ blue brushed decoration, underglaze ⁄ Design Fukagawa ⁄ Decoration Baumann ⁄ Made 1981