Create Invoices and payments in QuickBooks
Sync products and inventory both ways
Bulk sync orders
Create refund receipts automatically
Supports all WooCommerce payment methods
We don't charge a subscription like the rest!
With our super simple WooCommerce to Intuit QuickBooks plugin you can easily automatically create customers and invoices in Intuit QuickBooks when purchases are made on your WooCommerce online store. When payments are made (or orders are set to completed) payment is also registered against the invoice. When orders are refunded we can also create refund receipts in QuickBooks.
You can also sync manually created orders from the backend of WooCommerce to Intuit QuickBooks (which can also be helpful for existing orders). Or another way to sync existing orders is to use our bulk sync order feature (please see below for details), which will sync all existing orders in one go!
The plugin supports multiple taxes (taxes can be individually set for each product or you can use the global option) and multiple currencies (please note the base currency of WooCommerce must match the base currency in QuickBooks). With our WooCommerce to Intuit QuickBooks plugin you will have a simple but powerful connection between WooCommerce and QuickBooks without having to sign up for another subscription!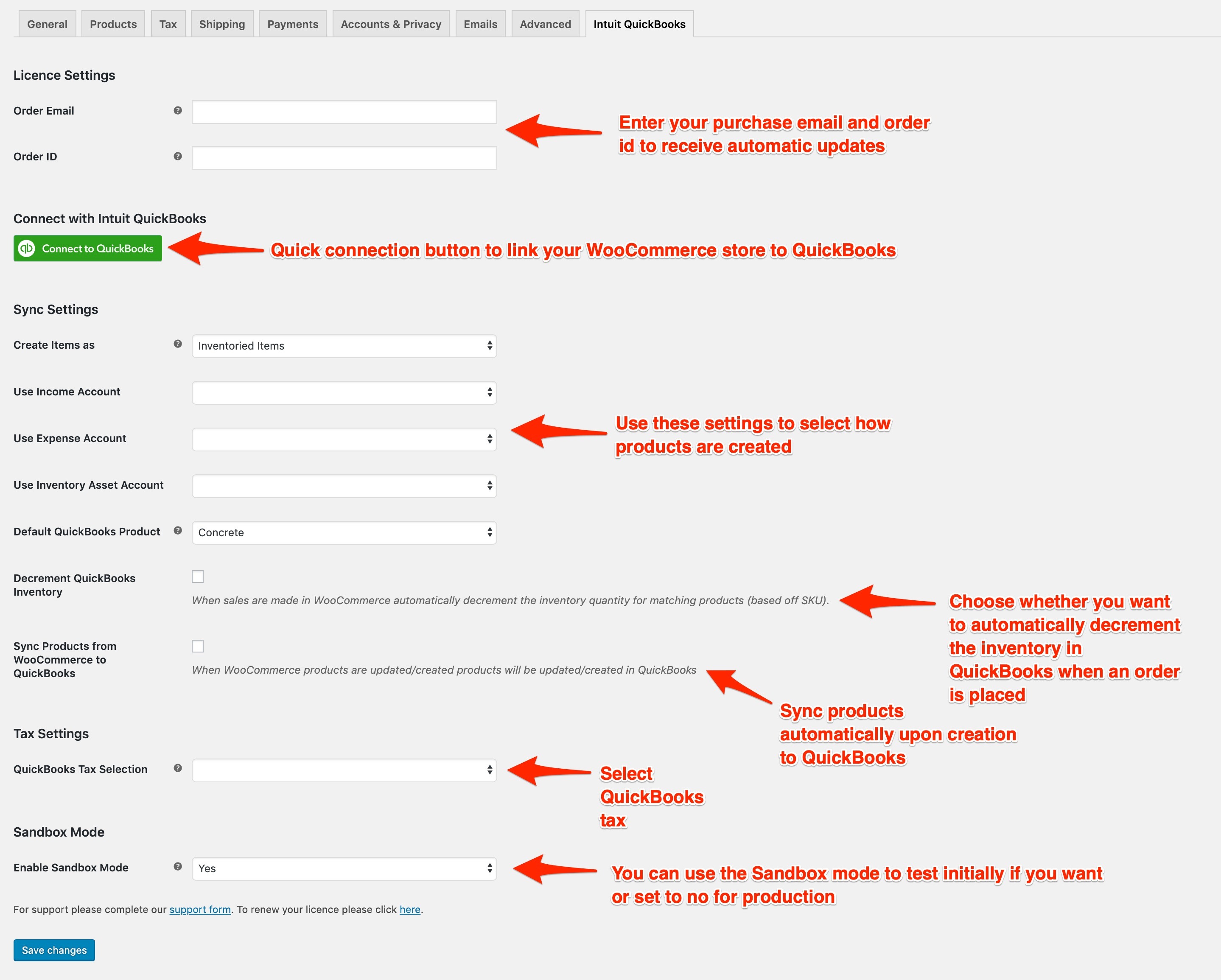 In the plugin settings, enter your Order ID and Purchase Email to receive automatic updates as they become available. Then connect to your QuickBooks online account with our easy 1 click authentication method! Then select the product type from your QuickBooks account that you want products to be filed under and select a tax rate from QuickBooks if you are charging tax in WooCommerce. You can also select which accounts you want new products associated with. That's it! There's no overwhelming amount of plugin settings; it only takes a couple of minutes to setup.

There are other great plugin solutions on the market with all sorts of bells and whistles. But our WooCommerce to Intuit QuickBooks plugin concentrates on the core functionality, with a super simple UI and unlike our competitors we don't force you onto an expensive monthly subscription. With our plugin you can pay once and get updates for a year and save heaps of money in the process, even if you renew each year to get an updated licence! WooCommerce to Intuit QuickBooks plugin is built by the 5 star rated plugin developer house based in Sydney; this means you will receive unparalleled support and can have peace of mind when it comes to code quality and security. If you have any questions about the integration please don't hesitate to contact us.
Inventory Auto-Decrement Feature
When products are purchased on your online store, matching product SKU's in Intuit QuickBooks will have their inventory decremented automatically depending on the amount of products purchased. This feature can be turned on or off from the plugin settings.
Automatically create and update products in QuickBooks
When simple and variation products are created or updated in WooCommerce you can create and update items in Intuit QuickBooks automatically. You can turn this feature on and off in the plugin settings.
Automatically sync inventory quantity from QuickBooks to WooCommerce
Every hour, if enabled from the plugin settings, your website will check to see if the inventory has been updated in QuickBooks, and update your WooCommerce inventory quantity accordingly.
Automatically create products in WooCommerce from QuickBooks
Every hour, if enabled from the plugin settings, your website will check to see if any new products have been created in QuickBooks and add them to WooCommerce as simple products.
Bulk Sync Orders
Easily sync all existing orders in one go with our sync all orders button which can be found at the top of the all orders page.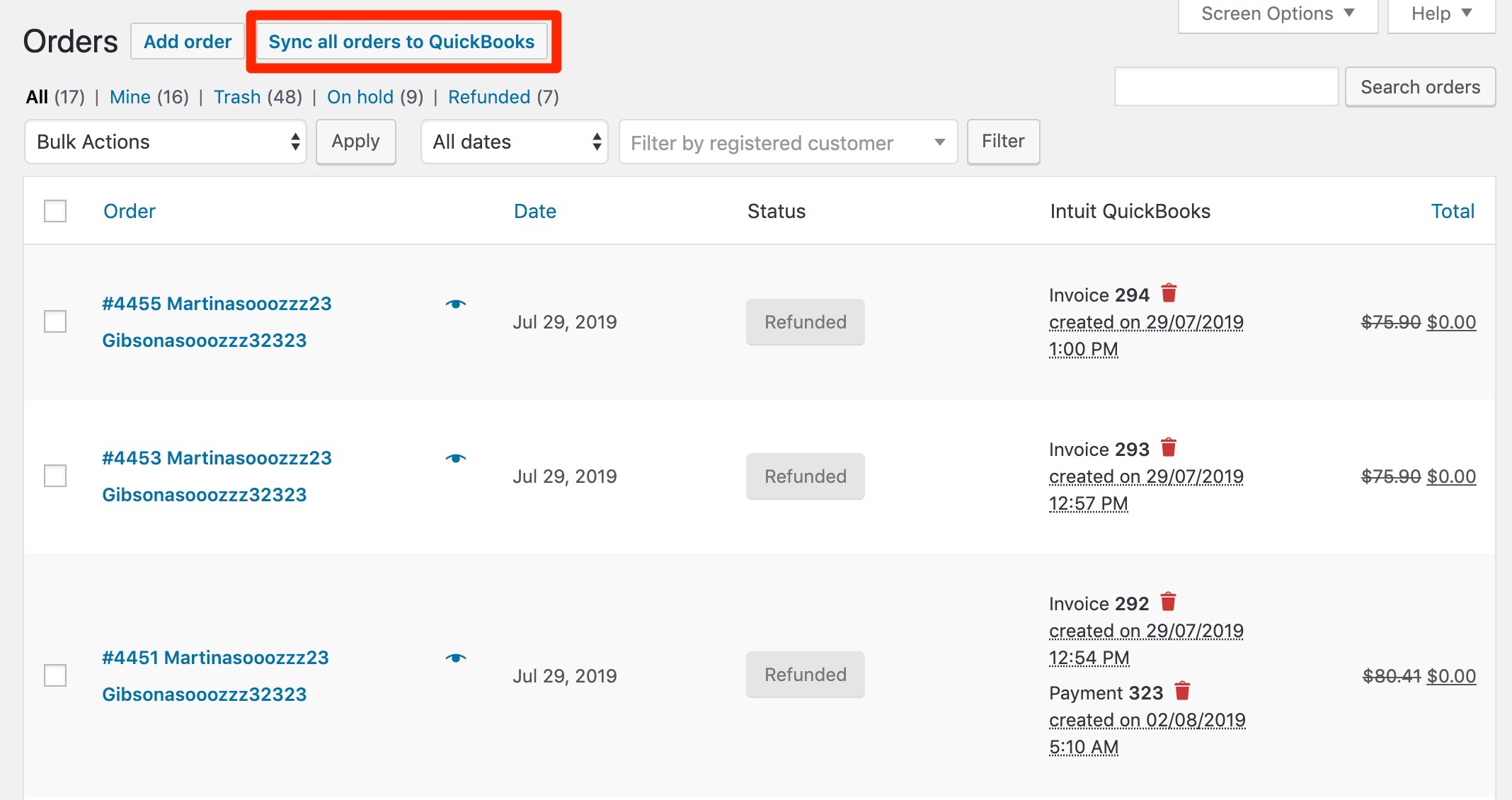 Create Refund Receipts Automatically
When orders get set to refunded you can automatically create refund receipts in QuickBooks. On the all orders page or the single order page you can also delete refund receipts created by the plugin.
Compatibility with WooCommerce Subscriptions
Use WooCommerce Subscriptions? Fantastic! Our WooCommerce to Intuit QuickBooks plugin can create invoices and payments for each renewal payment automatically so you can capture the whole customer journey in QuickBooks for a customer. You can also turn this feature off so just the initial invoice and payment is created in QuickBooks for the subscription if you prefer that.
A must-have connection at a low price!
With no ongoing subscription cost, the WooCommerce to Intuit QuickBooks plugin provides a simple but powerful method to integrate Intuit QuickBooks with your WooCommerce online store.WooCommerce to Intuit QuickBooks includes free updates for 1 year and the plugin can be renewed for continual updates if necessary.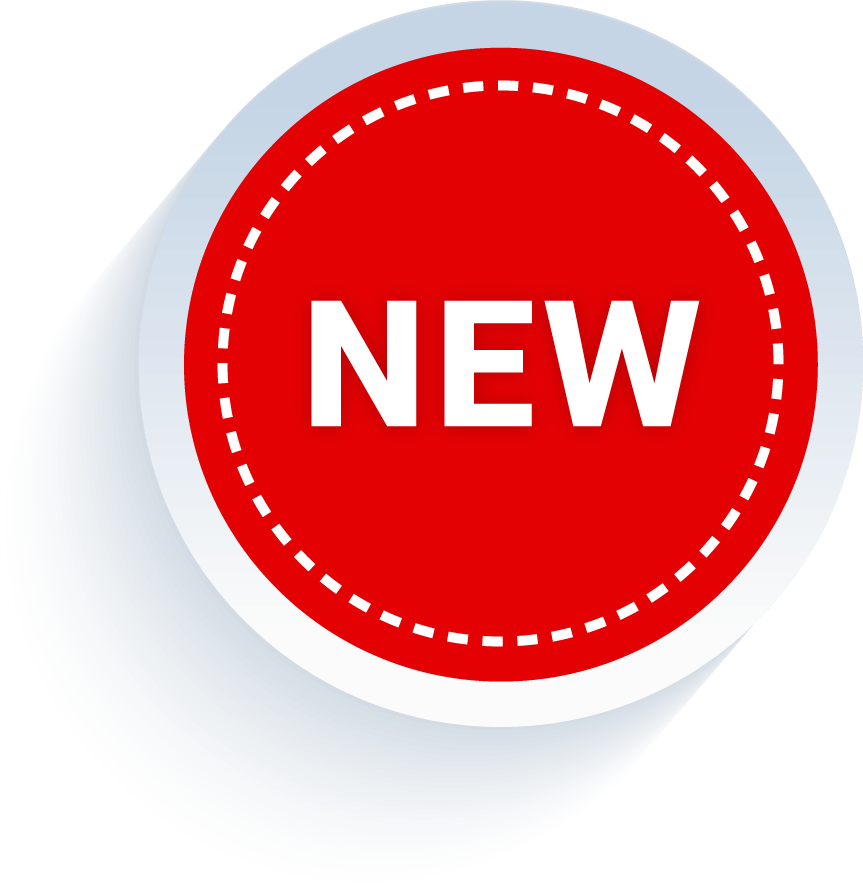 Subscribe and Save!
Get continual updates and support
No-hassle renewal process
1 Site ($89 USD

Per Year

$189 USD)
Unlimited Sites ($389 USD

Per Year

$819 USD)
What is the difference between the Subscription vs 1 year Licence? Learn more here.