Automatically create clients, contacts and jobs and supporting documents in Xero Practice Manager from your WordPress website when clients and prospects submit forms.
We are entering the digital age of bookkeeping and accounting and your firm needs to keep up with times to stay alive; we hear you! Your firm might be using Xero Practice Manager to manage your clients and your firm surely has a website already right? So why not integrate your website forms with Xero Practice Manager, so that clients, contacts and jobs can be created automatically and any files the client uploads in your forms can be attached as documents to the job. With the power of Gravity Forms, the best form system for WordPress you can easily map your form fields to Xero Practice Manager in a matter of seconds and start automating your processes and ensure more accurate data entry.
To get started you need to get your account and API key from Xero, which can be done via their help centre. Then go to the plugin settings: Forms > Settings > Xero Practice Manager Connector and enter the details provided by Xero. Then save the settings and the connection has now been made! To confirm this we list your categories, staff and templates below in a table format which can be used for future reference.
Now in the form settings for any particular form you can map out the standard Xero Practice Manager fields with your Gravity Forms fields. This is broken up into 3 sections, clients, contacts and jobs. Above this you can choose whether you want to add all upload files to Xero Practice Manager as documents, and you can also add a CSV file of the all the submitted forms as a document to Xero Practice Manager as well!
You can also set an opt-in condition so form submissions are only sent toXero Practice Manager if an and/or criteria is met or not met.
If you need additional functionality, please don't hesitate to contact us we and we can provide a quote for custom development work.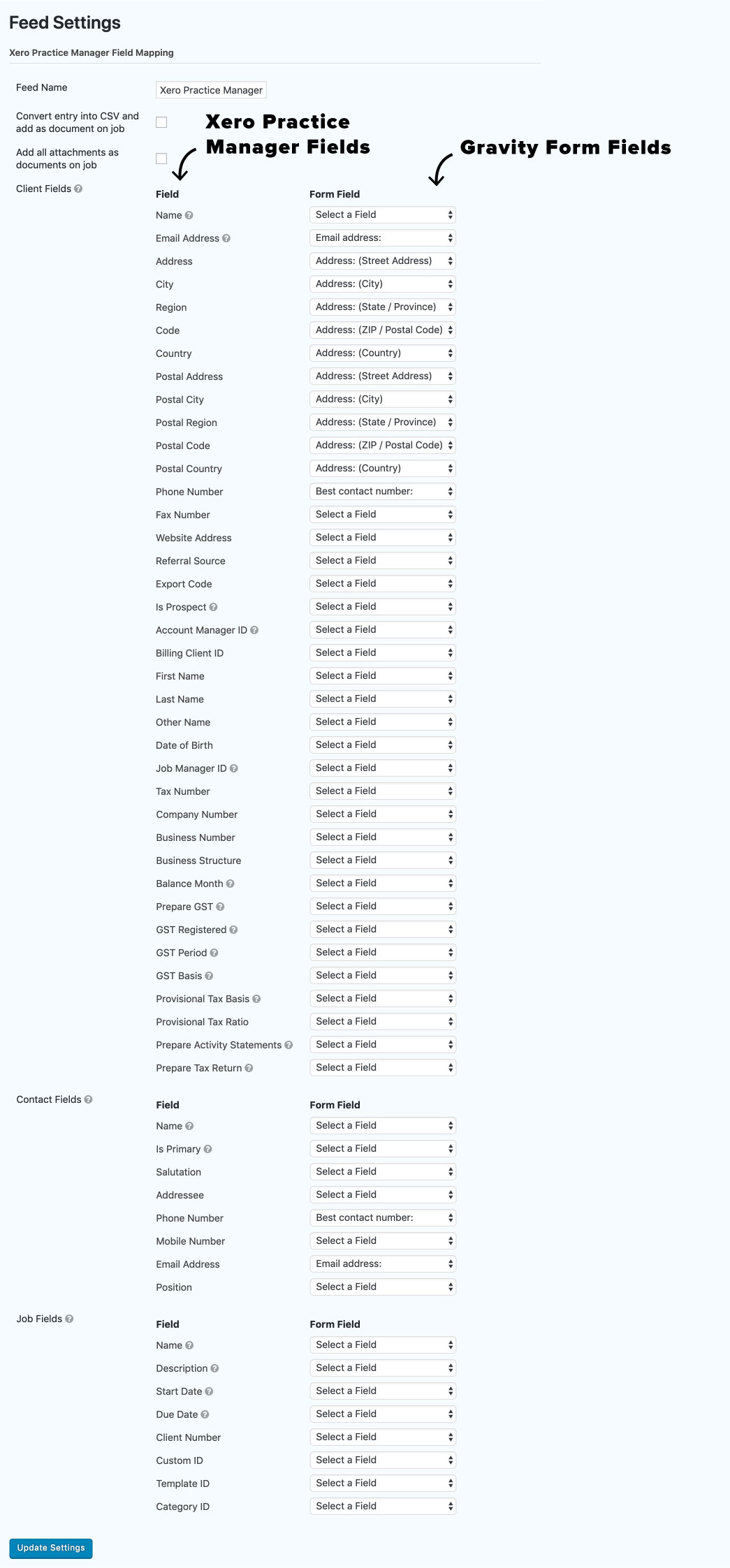 About Xero
Xero is world-leading online accounting software built for small business.
Get a real-time view of your cashflow. Log in anytime, anywhere on your Mac, PC, tablet or phone to get a real-time view of your cash flow. It's small business accounting software that's simple, smart and occasionally magical.
Run your business on the go. Use our mobile app to reconcile, send invoices, or create expense claims – from anywhere.
Get paid faster with online invoicing. Send online invoices to your customers – and get updated when they're opened.
Reconcile in seconds. Xero imports and categorises your latest bank transactions. Just click ok to reconcile.
How to Connect
Setting up the Xero Practice Manager to Gravity Forms Connector and mapping your forms to Xero Practice Manager is simple:
Ensure you have a Xero account and you have Gravity Forms setup on your WordPress website.
After purchasing our plugin, install and activate the Xero Practice Manager to Gravity Forms Connector plugin.
Go to the plugin settings (Forms > Settings > Xero Practice Manager) and enter in your order id and purchase email and your Xero Practice Manager key which can be found on the Xero Practice Manager app (Business > Settings > Connections > Add-ons) and find our app and click "Generate Key".
Create your Gravity Forms form with all the fields you would like to sent to Xero Practice Manager, then in the form settings go to the "Xero Practice Manager Connector" tab and create a feed and then map the Xero Practice Manager fields to your forms fields.
That's it! Now when clients/prospects submit your form a client/contact and or job will be created for them in Xero Practice Manager.
A must-have connection at a low price!
At just $90USD, the Xero Practice Manager to Gravity Forms Connector provides a simple WordPress Plugin that can can pay itself off in just a couple of hours! Streamline your practice by getting your clients to create their own jobs in Xero Practice Manager instead of you manually entering this information. Not only will our plugin save hours but it will also improve the accuracy of your data.
Xero Practice Manager to Gravity Forms Connector includes free updates for 1 year and the plugin can be renewed for continual updates if necessary.