The above video shows our Zoom Webinars for WooCommerce plugin in action. This works exactly the same way as our Zoom Meetings for WooCommerce plugin.
Use Zoom for your meetings? Have a WooCommerce store? Well why not sell your Zoom meetings with WooCommerce. Use all the power of WooCommerce like the extensive range of payment gateways and extensions to monetize your meetings.
The team at Northern Beaches Websites who offer a whole suite of WordPress plugin products is proud to release our super simple solution for Zoom Meetings. All you need to do is activate the plugin the plugin and go to WooCommerce > Settings > Zoom Meetings and click the "Connect with Zoom" button. With this one click authentication your website will be quickly connected to your Zoom account.
Now that you are connected the last things you need to do is create a new product or edit an existing product, ensure your product type is set to "Virtual" and you will see the new "Meeting Selection" tab, simply select the meeting you wish to sell. Then update/publish your product, and that's it!
Now your customers can find your meeting product in your store and add whatever quantity they would like. Then on the checkout page a new section will appear where the customer can enter in the details for each registrant. If the cart quantity is 3, 3 sections will appear, if there's 1, 1 section will appear and so on. Our plugin will automatically retrieve the necessary registration form fields from your Zoom meeting, including custom fields! Then once the order is marked as complete all registrants will be registered to the Zoom meeting. It's really that easy!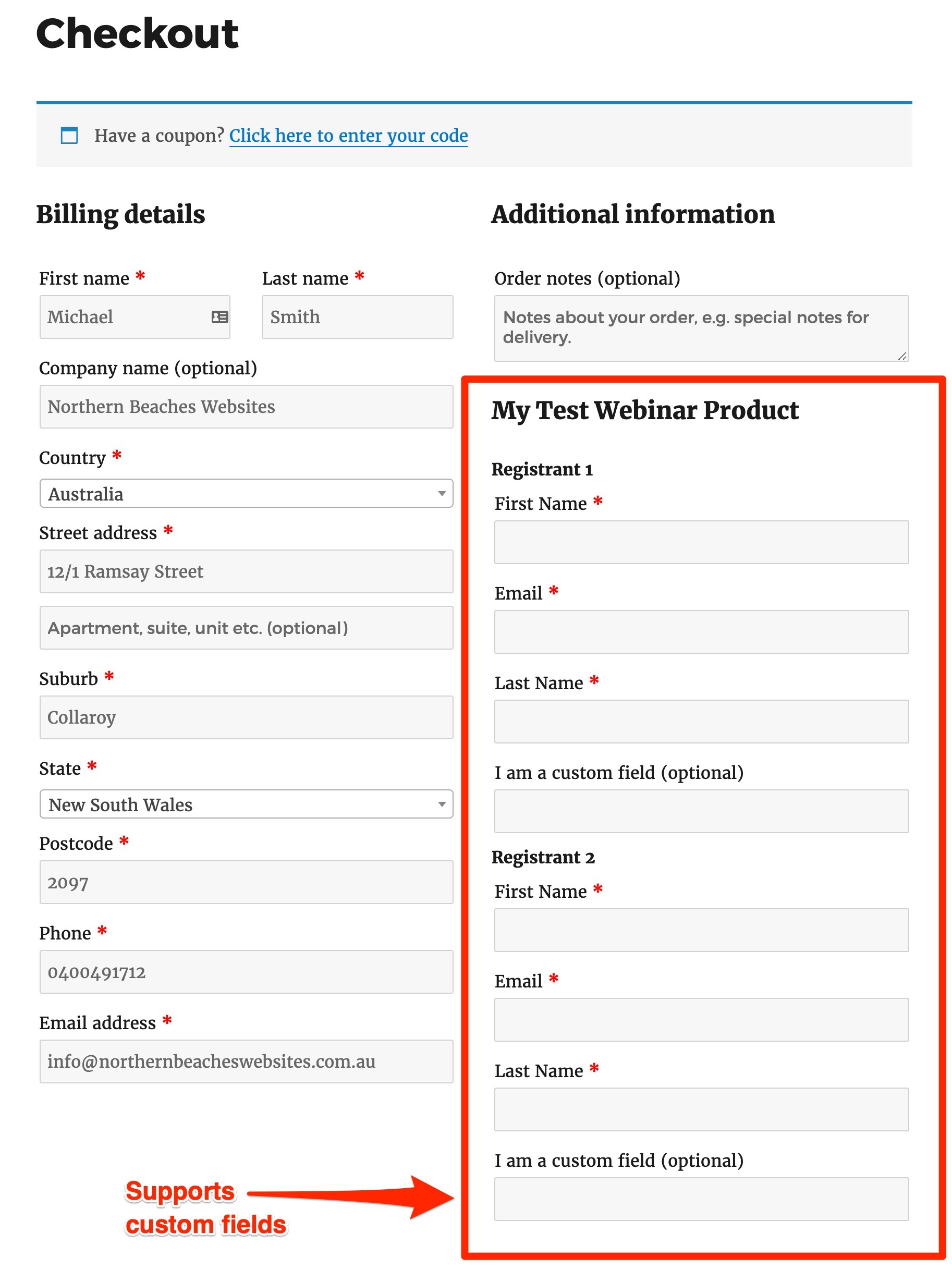 With Zoom Meetings for WooCommerce you can pay once and get updates for a year and save heaps of money in the process, even if you renew each year to get an updated licence! Zoom Meetings for WooCommerce is built by the 5 star rated plugin developer team at Northern Beaches Websites, based in Sydney, Australia. You will receive awesome and responsive support if you should have any questions; our team is keen to assist you always! If you have any questions about the integration please don't hesitate to contact us.
Additional Instructions/FAQ's
How to remove the plugin and deauthorize our plugin?
Simple deactivate the plugin and this will deauthorize the application.
How to uninstall the app from your Zoom account?
Please click here and next to our application click on the 3 dots.
What prerequisites are required?
WordPress: https://wordpress.org/
WooCommerce: https://en-au.wordpress.org/plugins/woocommerce/
Zoom account with pro plan or higher: https://zoom.us/pricing
What are the specific features of the plugin
Ability to assign existing Zoom meetings to WooCommerce products
Ability to get your Zoom registration form and display this on the checkout page in WooCommerce
Once someone purchases the meeting product they are automatically registered for the Zoom Meeting
Shows registrants on the order detail page
What support is offered for the plugin? And what can go wrong?
Please contact us for any support here. Our 1st Response SLA is 24 hours, and our support hours are Monday-Friday 9am-5pm AEST. The key thing that can go wrong is if you can't see your upcoming meetings on the product edit page, if this should occur simply go back to the plugin settings page to re-authenticate with your Zoom account. This may occur during the clearing of transients or migrating WordPress to a new domain. You can also see a log of the plugin actions by going to WooCommerce > Status > Logs and select our plugin from the dropdown.
Easily Sell Your Zoom Meetings!
With no ongoing subscription cost, the Zoom Meetings for WooCommerce plugin provides a simple but powerful method to sell your Zoom Meetings on your WooCommerce online store. Zoom Meetings for WooCommerce includes free updates for 1 year and the plugin can be renewed for continual updates if necessary.